Strategizing for Optimal Off-premise Growth
Last year, consumer demand for off-premise dining rose by 28%. That upward trend is projected to continue in 2019, according to Technomic's 2018 New Dynamics of Off-Premise report. With more and more consumers ordering takeout, delivery and to-go meals, foodservice operators are taking note-and ensuring they have the resources and operations in place to cater to customers who choose to dine off site.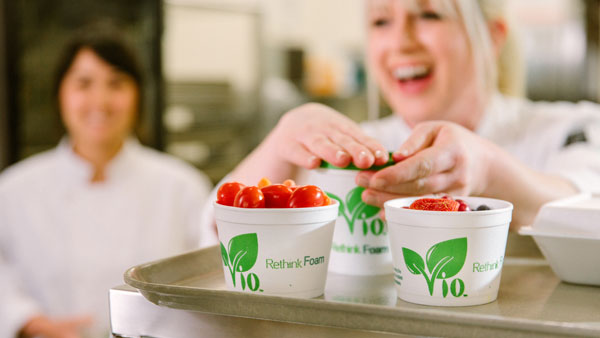 This reach extends to college campuses, senior living residences, and hospitals, where consumers have an abundance of off-site dining options-with a growing number of restaurants offering delivery and takeout via online ordering and third-party delivery apps. To stay competitive, foodservice and dining programs must also offer similar amenities, catering to off-premise dining as robustly as any local restaurant.
Addressing temperature and safety
To best serve takeout and delivery customers, it's important to pay attention to their unique concerns. They want food to be kept at the right temperature-whether that's hot or cold-while it is en route to their location. According to Technomic's New Dynamics of Off-Premise report, 94% of consumers expect hot food to be delivered hot. For foodservice operators, this means implementing procedures and investing in containers and carrying bags that help maintain food temperature.
Consumers are also concerned about the safety of their off-site food orders, and that they're prepared and transported according to proper procedures. Well-trained staff can help ensure the safety of these orders.
Minimizing waste
Consumers are also aware of how much waste food packaging contributes to landfills and are urging operators to use as many eco-friendly options as possible. Technomic's New Dynamics of Off-Premise report shows that 43% of consumers look for sustainable and compostable labels.
As you respond to the rising popularity of takeout and delivery, it's also the ideal time to consider replacing your single-use plastics and foams with Vio® biodegradable* straws, cups, containers and lids. They cost less than other eco-friendly alternatives, maintain the temperature that your customers expect and biodegrade. With Vio, the decision to switch to packaging with less environmental impact-without compromises-is that easy.
With more and more consumers turning to takeout and delivery, eco-friendliness has become as much of a priority as temperature and food safety. Finding the right packaging for an off-premise dining program might be as important as the food itself. Your prized dishes and beverages deserve to arrive as expected and with better environmental outcomes.
By choosing more environmentally friendly packaging options, like Vio's, you can keep your existing customers happy-and attract new ones-all while protecting your bottom line.